JOHN JOSEPH HAWKES was my great grandfather. Born in Burnham-on-Crouch in 1857, he married Elizabeth Ann Collis on 9th August 1874 in the Independent Congregational Chapel at Southminster, Essex.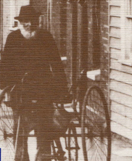 JJ was the fifth of 14 children of Joseph (Laddy) Hawkes (right) and Emma Carder. At one time Laddy was Burnham town cryer.
JJ & Elizabeth had 16 children, the last of which, Daisy Ida, died in infancy - most of the female line were fairly long lived, the male line tended to pass away earlier (from 12 to 79). Gordon Alfred was killed in the early months of the Great War, Thomas Collis apparently died in 1916 but so far I have not found his cause of death. 
The bottom photo on the left shows JJ with his wife and 15 of his 16 children - I believe this photo dates from 1892 before the birth of Daisy Ida (the only child to die in infancy). I believe I have identified the children correctly. Ellie, on the far left, was my grandmother (married Sidney Edmund Barker).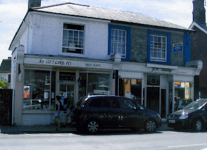 At this time JJ was described as a Shoemaker. I am not sure when he opened his shop in Burnham High Street or at what stage he became know as "Golden Boot". I've been told that there used to be a road race around Burnham (about 4 miles) which had a first prize of a pair of boots donated by John Joseph. The shop that used to be owned by JJ still exists (the photo above shows it as it was in 2006, the right hand of the 2 shops).
JJ and his family were the subject of short article in the Daily Express on 1st September 1931 which included the photograph of his family shown at the bottom of the side bar to the left. In the article he states that he retired at 60 with £2000. 
JJ died in 1941 at the age of 84, his first wife having died in 1920. He married again in 1923 to Annie Carter, who survived him. For photos of the Hawkes family click here
Feel free to browse around my site. If you have comments or questions please drop me a line at tony@inmygenes.me.uk.